MUTHUSWAMI DIKSHITAR AND TIRUVARUR
Muthuswami Dikshitar and Tiruvarur bear a close association for many reasons. Tiruvarur was the place of his birth. He was devoted to Kamalamba and Tyagaraja, the deities of the TiruvarurTemple and this was the place that saw the most prolific of Dikshitar's compositions. This book aims at studying the kritis that Muthuswami Dikshitar composed in Tiruvarur, the details of the town and temple that he has incorporated in his kritis and the sheer beauty and majesty of his style.
by Sumathi Krishnan

C.P. Ramaswami Aiyar Foundation, Chennai, 2005,
ISBN: 81-901484-5-1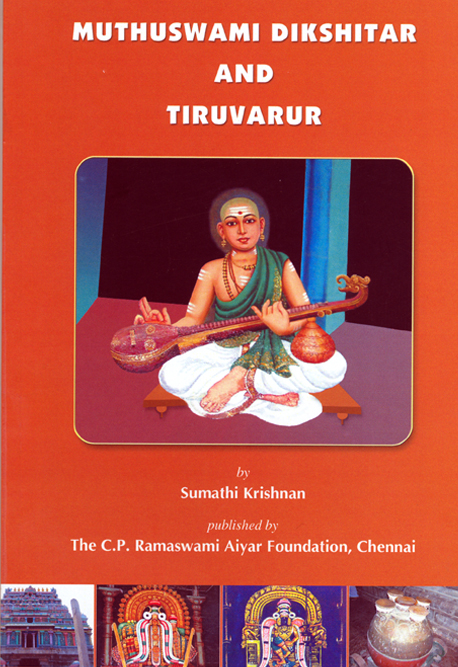 * MUSIC COMPOSERS OF INDIA
Essays onTyagaraja and Rama Bhakti, The Gita Govindam of Jayadeva, Arunagirinatha, Purandara Dasa, Haridasa of Karnataka, Saint-singers of Maharashtra, Ksetrajna, Narayana Tirtha, Sadasiva Brahmendra, Bhadrachala Ramadasa, Arunachala Kavi, Tyagaraja's Panca-Ratna-Krtis, The Prahlada Bhakti Vijayam of Tyagaraja, Syama Sastri, Maharaja Swati Tirunal, Gopala Krsna Bharati, Kavadi Chindu of Annamalai Reddiar, Subrahmanya Bharati's Musical Compositions.
by T.S. Parthasarathi

C.P. Ramaswami Aiyar Foundation, Chennai, 1996.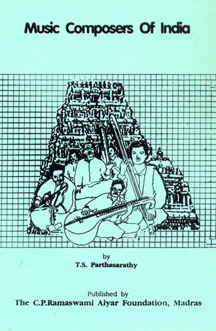 * INNOVATIVE GENIUS OF BHAVABHUTI
An introduction to Bhavabhtuti's innovativeness as a poet and playwright and the problem of Sita's excommunication and
re-acceptance.
by Shri. A.V. Subrahmanyam

C.P. Ramaswami Aiyar Foundation, Chennai, 1983.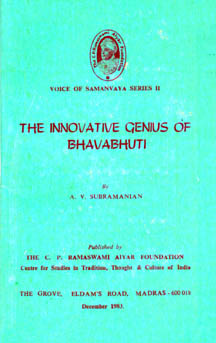 * HARIKATHA
The contributions of Walajapet Venkatramana Bhagavatar and the musical forms in Kathakalakshepa are delineated by Shri T.S. Parthasarathy and Dr. M. Prameela Gurumurthi respectively.
by T.S. Parthasarathi

C.P. Ramaswami Aiyar Foundation, Chennai, 1980.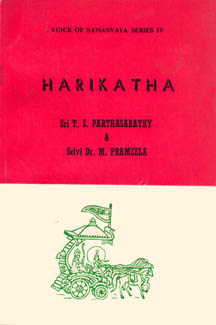 * FOLK ARTS OF TAMILNADU
Describes folk dances, such as the kummi, kolaattam, kaavadi, karagam and impersonation dances;folk music, such as the villupattu, harikatha, lavani; occupational songs, folk ballads and lore and lullabies;musical instruments including, percussion instruments, string instruments, wind instruments, folk bands; folk theatre such as therukoothu, bhagavatha mela, kuravanji; and puppetry, both bommalaatam and tholu bommalaatam.
by Nanditha Krishna

ISBN: 81-901484-7-8
see also Publications on Folk Culture