The C.P. Ramaswami Aiyar Foundation was awarded the Rani Lady Meyyammai Achi 101st Birthday Commemoration Award for the year 2005 by the Rajah Sir Annamalai Chettiar Memorial Trust. The award consists of a silver plate, citation and Rs. 1,00,000/-. The award was given to the Foundation for the services rendered towards the upliftment of women on October 11, 2005 at Rani Seethai Hall, Chennai. Dr. Nanditha Krishna, Honorary Director of the Foundation received the award.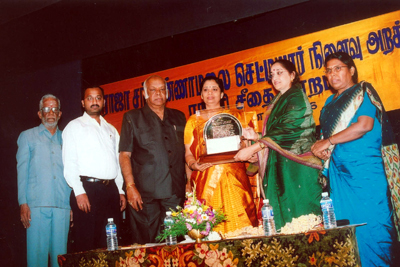 CITATION
""The development of women through education, skill enhancement, and training for acquisition of new avenues for economic and intellectual well-being has been a core mission of the C. P. Ramaswami Aiyar Foundation (The Foundation). In keeping with this mission, practical, life-help sessions to increase women's economic independence, which in turn, would help their emancipation, have been a regular feature of women's programmes.
Young and adolescent school girls from economically weaker sections of society reap benefits from the Foundation's unique sponsorship programme called "EACH ONE TEACH ONE" whereby girls' from poor families are assured of education up to Std. XII in a good school. This 9-year old project has helped hundreds of poor girl students to continue their school education. Many have already graduated from school under this programme and have gone ahead for higher education. The girls come from women-headed families and this educational opportunity helps prevent them from being used as labourers elsewhere.
Not only education but also catering to the needs of special children, the Foundation has established the Saraswathi Kendra Learning Centre for Children (SKLC) in 1985. This is an alternative centre for slow learners, dyslexic, autistic and learning disabled children. Experts and specialists in the field of psychology and special education have provided valuable inputs to help several thousand special children receive a basic or vocational education.
Skill enhancement programmes for girl children of Mamallapuram have resulted in the adaptation of traditional drawing and painting as a career. The girls are trained in traditional arts and, with their talent and skill, are generating an income, besides marketing their paintings through their own Self-Help Group.
Village women of South India are given health, first aid and nutrition education. Several herbal gardens have been established and women are trained in extraction, processing and production of herbal remedies. Many women's groups have been trained in enhancing traditional craft skills for contemporary needs through the adaptation of traditional crafts and inculcation of new skills. Project management and administration are essential parts of every training programme.
C.P.R. Environmental Education Centre, established in 1989 by the Foundation, provides environmental education, design and training in eco-friendly technologies such as the construction of smokeless chulhas, organic farming, tree plantation, horticulture, vermi-composting and producing bags from waste paper as an alternate to plastics. Thus the achievement of the multiple goals of women's economic independence, better health and environmental protection are met.
Tribal women in the Nilgiris have been trained by the Foundation to conserve their art and craft traditions and utilize them to generate an income. Kurumba painting, Kota pottery, Paniya bamboo crafts and Toda embroidery have been adapted for contemporary market needs, thereby conserving the tradition and improving the lives of the tribals.
Women's Craft Bazaars are organized regularly to provide opportunities to individual women entrepreneurs and Self-Help Groups to sell their products. The Foundation provides a permanent outlet in Chennai for the marketing of arts, crafts and other products made by Self-Help Groups, individual women and tribals.
The Foundation has helped the disadvantaged sections of society, particularly women, children, tribals and the disabled into independent, confident and successful individuals who can combine the traditional with the modern and derive maximum benefit out of this synthesis.
Dr. Nanditha Krishna received the
Sir J. C. Bose Memorial Award instituted by the Indian Science Monitor for her work in environmental education from Justice Venkatachelliah (former Chief Justice of India and Chairman of the National Human Rights Commission) and Justice Santosh Hegde (former Judge of the Supreme Court and the former Lokayuktha of Karnataka) on January 9, 2014, at Bangalore.
Lion Dr. K. V. Govinda Rao Memorial Wisdom Award for Lifetime Excellence and Title of "Sevaa Rathna" at the 40th Wisdom Award 2012 organized by Wisdom (Monthly Digest), Chennai, on December 13, 2012, at 5.30 p.m.
Lifetime Achievement Award from the Loyola Forum for Historical Research (LFHR), Department of History, Loyola College, Chennai, 2012.
Acharya Hasti Centenary Karuna Ratna Award, Karuna International and Acharya Hasti Centenary Celebrations Committee, 2010.
Enabled Woman from Madras Management Association, 2003
Millennium Woman Award of the Forum for Women Students, Loyola College, 2000
Seva Ratna (from the Centenarian Trust, Chennai), December 1999
Stree Ratna (from Bharatiya Vidya Bhavan, Chennai), March 1998
Outstanding Woman of Asia (from the University Women of Asia), January 1997
C.P.R. Environmental Education Centre received the
Dr. M. S. Swaminathan Award for Environmental Protection from Rotary Club of Madras (East), 2004.
Indira Gandhi Paryvaran Puraskar, India's highest environmental award in 2000.
OTHERS
Dr. Nanditha Krishna received the
'Ilakkiya Semmal' from Zakir Hussain's Sri Paadham Academy of Dance, Chennai, for her contribution to Literature on March 22, 2015
Sir J. C. Bose Memorial Award instituted by the Indian Science Monitor for her work in environmental education from Justice Venkatachelliah (former Chief Justice of India and Chairman of the National Human Rights Commission) and Justice Santosh Hegde (former Judge of the Supreme Court and the former Lokayuktha of Karnataka) on January 9, 2014, at Bangalore
Lion Dr. K. V. Govinda Rao Memorial Wisdom Award for Lifetime Excellence and Title of "Sevaa Rathna" at the 40th Wisdom Award 2012 organized by Wisdom (Monthly Digest), Chennai, on December 13, 2012
Lifetime Achievement Award, Loyola Forum for Historical Research (LFHR), Department of History, Loyola College, Chennai, 2012.
Acharya Hasti Centenary Karuna Ratna Award, Karuna International and Acharya Hasti Centenary Celebrations Committee, 2010.
Millennium Woman Award of the Forum for Women Students, Loyola College, 2000
Seva Ratna (from the Centenarian Trust, Chennai), December 1999
Stree Ratna (from Bharatiya Vidya Bhavan, Chennai), March 1998
Outstanding Woman of Asia (from the University Women of Asia), January 1997
Fellow of the Institute of Social Science Research award